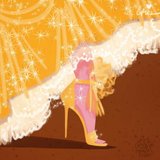 If only it were possible to "like" an item on Instagram and have it magically appear in our closet, we'd be the proud owners of chic Disney-inspired shoes. Griz and Norm Lemay, a pair of feature animation artists who work at Walt Disney Animation Studios, recently reimagined a few of our favorite footwear designs with a bit of a Disney twist. The results? Nothing short of amazing.
From Ariel's mermaid-caged Sergio Rossi booties to a pair of Lilo-embellished Louboutins, our inner Disney fashion girl is having a major freakout. Scroll through to see every colorful, detailed design, then cry along with us over the fact that they aren't real. Seriously - can someone hurry up and make these already? Our feet are waiting!
Photo Shoot & Fashion Show Tips
"As a photographer assisting or shooting, I have seen colorful nails ruin a photo or cause the photographer to avoid a shot all together because the model had fingernail polish that just threw everything off. Yes photoshop could probably correct the problem, but...you don't want to rely on that. Natural is always better unless your nail color is a planned part of the shoot/concept."
See what others think