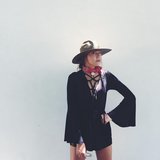 If you enjoyed living vicariously through your favorite style stars at Coachella, get excited to do it all over again this weekend. Bloggers, celebs, and fashion insiders made their way to Grant Park in Chicago for Lollapalooza, and they packed some seriously good looks along with them.
From Danielle Bernstein's lineup of Chelsea booties - which include snakeskin and star-studded pairs we imagine she'll rock with sexy, boho-inspired outfits - to Natalie Suarez's amazing Missguided lace-up romper, there's plenty of festival style to soak up. So turn up Charli XCX or Alabama Shakes and get scrolling.
Photo Shoot & Fashion Show Tips
"As a photographer assisting or shooting, I have seen colorful nails ruin a photo or cause the photographer to avoid a shot all together because the model had fingernail polish that just threw everything off. Yes photoshop could probably correct the problem, but...you don't want to rely on that. Natural is always better unless your nail color is a planned part of the shoot/concept."
See what others think