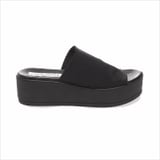 The "flip-click-flop" of Steve Madden's signature black '90s slide was one of the greatest sounds of our youth. That was probably because we felt damn cool wearing the iconic shoe, properly styled with denim shorts, a wiry choker, and a ruched Limited Too tube top. It makes sense that the brand is bringing back the Slinky now, when '90s trends are being refreshed on the regular and we have so many wardrobe staples to wear the platforms with. Our next going-out look obviously involves the stretchy shoes (and maybe that lavender slip dress we just picked up). Scroll for another look at Steve Madden's design - still a masterpiece in its original form a whole decade later - and preorder it now.
Photo Shoot & Fashion Show Tips
"Always pay attention to where the photographer has placed their lighting and ask if theres movements or angels that her/she prefer that you avoid."
See what others think