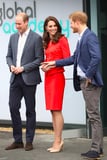 While Hillary Clinton's mastered the pantsuit in every color, Kate Middleton's done so with the skirt suit. In the past, the Duchess of Cambridge has shown off a tweed and an emerald green set, and her latest addition to the collection is a more vibrant ensemble. For the official opening of The Global Academy in support of Heads Together, Kate chose a cherry red Armani suit.
This ensemble was unlike the others, however, thanks to cool pleated details on the side. It was both eye catching and royal-approved. She let the look speak for itself by wearing neutral accessories like her Rupert Sanderson pumps and woven clutch by Etui Bags. There's no doubt Kate's worked every skirt suit color there is and this red outfit is among our favorites. Scroll on to see her look in full, then shop similar red suits to Kate's.
Photo Shoot & Fashion Show Tips
"As a photographer assisting or shooting, I have seen colorful nails ruin a photo or cause the photographer to avoid a shot all together because the model had fingernail polish that just threw everything off. Yes photoshop could probably correct the problem, but...you don't want to rely on that. Natural is always better unless your nail color is a planned part of the shoot/concept."
See what others think