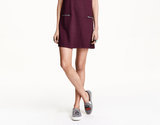 If you're a one-stop shop kind of gal, stepping up your Fall footwear has never been more simple. H&M is rolling out its latest booties, heels, and even sneakers, just in time for the transition to cooler temps. And while we're sad to see sandal season come to a close, we're lusting over the fact that these styles will finally be back in action.
But the best part about these sleek - and trendy! - finds? They're all budget friendly too. Just scroll for the 16 best shoes you can slide into right now.
Photo Shoot & Fashion Show Tips
"Relaxed and elegant hands usually make for a better photo. Try to avoid placing your hands in positions or angles that will make them look like a "claw" in a still frame."
See what others think