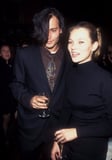 As far as celebrity relationships go, Gigi Hadid and Zayn Malik are one of the most effortlessly cool, fiercest couples to date. His rock-star vibe has managed to rub off on her, and it's not unusual for them to stylishly coordinate, especially at Fashion Week or industry events. Yet each time we look at them, we tend to get déjà vu, since they remind us a lot of a different duo where the bad boy fell for an It model: Johnny Depp and Kate Moss. Aside from the fact that those '90s styles are totally back, Gigi and Zayn have even mastered Kate and Johnny's old poses. Scroll through for photographic evidence, then see all the times Gigi switched up her style for her new beau.
Photo Shoot & Fashion Show Tips
"All models should know how to apply their own make-up, and keep the necessities  with you even if your provided a Make-up artist, the unexpected can happen!"
See what others think