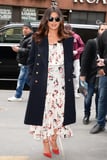 While we're all bundled up in our puffer jackets and turtleneck sweaters, Priyanka Chopra is wearing her summertime dress. The actress seemed to look ahead to warmer days when she arrived in a silk, ruffled Marni number for Good Morning America. The cascading hem dipped below her knees and highlighted her ankle-strap pumps, which perfectly matched the red print on her dress. For an added measure of warmth, Priyanka wore a long, four-buttoned coat but left it open to reveal the floral designs.
Though she missed the SAG Awards last Sunday, Priyanka just reminded us why she'll always be a red carpet star. The Marni look wasn't your typical Winter outfit, but the actress made it work. Read on to see the star's full look, then pick up her exact gown below. We'll be saving that for when the temps hit 70 on the East Coast.
Photo Shoot & Fashion Show Tips
"All models should know how to apply their own make-up, and keep the necessities  with you even if your provided a Make-up artist, the unexpected can happen!"
See what others think