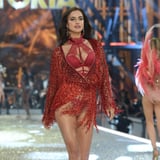 Wednesday marked Irina Shayk's debut on the Victoria's Secret Fashion Show runway - but the Russian supermodel hit the catwalk with a little secret of her own. Surely no one suspected that Irina was hiding a baby bump underneath her shimmering wrap top, but shortly after the show, news broke that Irina is in fact expecting a baby with boyfriend Bradley Cooper.
Her first look, a red fringed jacket provided just a hint of coverage for the beauty, who's now reportedly in her second trimester, while a belted trench in her second look helped keep her secret under wraps on the runway. Ahead, get a look at her stunning rookie appearance on the VS runway, and try telling us this mama-to-be doesn't look like a pro.
Photo Shoot & Fashion Show Tips
"All models should know how to apply their own make-up, and keep the necessities  with you even if your provided a Make-up artist, the unexpected can happen!"
See what others think