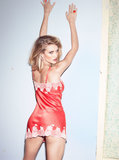 Chrissy Teigen is in trouble! The model posted a photo to her Instagram account from a recent shoot for W magazine, only to have the post deleted because her nipple was showing. But if you thought Chrissy's photo showed some serious skin, wait until you see the other pictures from the ultrasexy shoot, titled Privacy Settings. Top models including Rosie Huntington-Whiteley, Lily Aldridge, and Bella Hadid stripped down to their skivvies, and the results were basically too hot to handle. Read on to see a few of our favorite shots - but be warned, these photos are definitely NSFW.
Photo Shoot & Fashion Show Tips
"Always pay attention to where the photographer has placed their lighting and ask if theres movements or angels that her/she prefer that you avoid."
See what others think