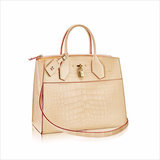 Just in time for the holidays, Louis Vuitton rolled out its 2016 Cruise collection, and with it, plenty of City Steamer bags to lust over. The smart silhouette features an easy-to-tote structure and sophisticated details like a small gold padlock and optional monogram. But the luxe style you're looking at right now? That's the beige crocodile version, and it retails for $55,500, making it the most expensive LV handbag ever.
Don't get us wrong - we'd be hard-pressed to find something wrong with the impeccably crafted accessory. In fact, its neutral color and patent finish make it the perfect wear-every-day bag. But would you shell out the cash for this City Steamer? Or, better yet, add it to your holiday wish list? Read on to see Michelle Williams model the design in more standard colorways, then admire LV's priciest offering once more, and let us know if it's worth the splurge in the comments section!
Photo Shoot & Fashion Show Tips
"All models should know how to apply their own make-up, and keep the necessities  with you even if your provided a Make-up artist, the unexpected can happen!"
See what others think