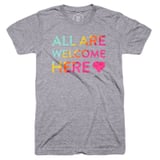 We're answering the call to be engaged citizens, whether it's marching, writing to our senators, or just showing up for the groups being targeted by the Trump administration. The activism around the country proves the resistance is strong. And, since we're big believers in wearing what makes us feel good, right now that's a lineup of t-shirts that show the world exactly where we stand on women's and minorities' rights, the environment, and the importance of truth telling in the face of "alternative facts." Read on to find the shirt that sends just the right message and get inspired to take action and support the causes you care about.
Photo Shoot & Fashion Show Tips
"All models should know how to apply their own make-up, and keep the necessities  with you even if your provided a Make-up artist, the unexpected can happen!"
See what others think