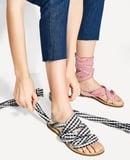 We credit Miu Miu for making mismatched straps a thing. The sweet gingham and grosgrain ribbon straps are the defining feature of the brand's biggest shoes, which now dominate the feeds of any fashion girl. Maybe not surprisingly then, Zara's getting in on the action. Following in the footsteps of Miu Miu's trend-making shoes, the fast-fashion retailer just put forth its own 'grammable fashion fodder. Its strappy flat sandals come with interchangeable gingham (because, of course) and striped ribbons that you can match or mismatch as you please. It's almost like having two completely different pairs of sandals that happen to look even better when you wear them together and ring in at just $60. The only kicker is grabbing them before everyone else catches on.
Photo Shoot & Fashion Show Tips
"Learn to use the energy in your eyes. From the photographers perspective, the eyes can make or break an image. New models that have the "look" also must know how to convey the feeling with their eyes."
See what others think