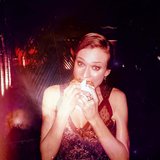 From munching on burgers in designer dresses to selfies from the style set, we awoke to a feed filled with fashion moments after the Oscars. Showing off a dress on the red carpet is one thing, but flaunting it once you're inside the party is quite another. The actors who hit up Vanity Fair's soirée kept the basics in mind, posing to show off their very best angles. Read on for 18 behind-the-scenes moments we double-tapped.
Photo Shoot & Fashion Show Tips
"Always pay attention to where the photographer has placed their lighting and ask if theres movements or angels that her/she prefer that you avoid."
See what others think