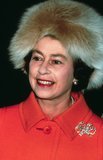 When all eyes are turned to the royal family's headline-grabbing tiaras and engagement rings, it means many incredible pieces of jewelry in the royal collection can be overlooked. For the biggest and best-quality diamonds in the world, as well as symbols of the deepest love, it's all about the royals' brooches. From priceless antiques to more contemporary creations, the pretty trinkets of a young princess to the knockout bling of a grand matriarch, we rounded up the best and most beautiful royal brooches.
Photo Shoot & Fashion Show Tips
"As a photographer assisting or shooting, I have seen colorful nails ruin a photo or cause the photographer to avoid a shot all together because the model had fingernail polish that just threw everything off. Yes photoshop could probably correct the problem, but...you don't want to rely on that. Natural is always better unless your nail color is a planned part of the shoot/concept."
See what others think