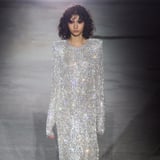 A fierce kind of femininity pervaded at Anthony Vaccarello's Fall '17 collection for Saint Laurent. The second collection under Vaccarello's creative direction was both strong and sensual, with nods to Saint Laurent's brand of womanly dressing - think ruffles, minis, and strong shoulders. It was part homage to the '80s and also a dramatic step into the future, where leather minidresses come with sculptural sleeves and a shearling-lined shrug.
Vaccarello's at the helm of a blockbuster brand. The 100-plus-look show, comprising womenswear, menswear, and eveningwear, was a testament to that much. But it's not quantity we're judging. The content was just as compelling as the sheer size of the lineup, giving us wearability and fantasy - tailored trousers, denim, suiting in one vein, party dresses covered in silver sparkle for the Hollywood star. It's those finale dresses that will become the collection's poster child, symbols of Vaccarello's cool and the strong, stylish women who wear it. The dresses - and the boots. The ruched leather, velvet, and embellished boots will likely be big hits for the brand, taking the streets next Fall on the heels of It girls and influencers everywhere, making them feel a little like rock stars.
Photo Shoot & Fashion Show Tips
"As a photographer assisting or shooting, I have seen colorful nails ruin a photo or cause the photographer to avoid a shot all together because the model had fingernail polish that just threw everything off. Yes photoshop could probably correct the problem, but...you don't want to rely on that. Natural is always better unless your nail color is a planned part of the shoot/concept."
See what others think