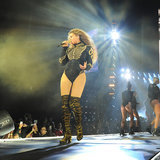 Beyonce's Formation tour has officially kicked off, and with serious style too. Not only will Queen Bey be rocking bodysuits, but her fans will also be rocking clever "Boycott Beyonce" merch.
Photo Shoot & Fashion Show Tips
"As a photographer assisting or shooting, I have seen colorful nails ruin a photo or cause the photographer to avoid a shot all together because the model had fingernail polish that just threw everything off. Yes photoshop could probably correct the problem, but...you don't want to rely on that. Natural is always better unless your nail color is a planned part of the shoot/concept."
See what others think