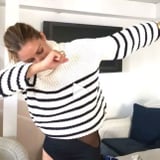 This may just be the first time ever that Olivia Palermo's outfit wasn't the first thing we noticed about her. The style setter's adorable look took a backseat on the set of her latest photo shoot when Olivia 'grammed a video Dabbing, yes, Dabbing. We knew Olivia was a style pro, polished and poised, but we love getting a more candid look at her goofier side. Proof that she doesn't take herself too seriously - or maybe just a testament to how much she loves her sweater - this may just be our favorite Olivia P. moment to date.
Of course, once you stop for a moment to appreciate the look, too, we suspect you'll want to shop a chunky striped turtleneck just like Olivia. Because, even when she's just hanging out, we pretty much always want what Olivia's wearing. Read on to watch her moves on repeat, then shop our inspired picks when you're ready.
Photo Shoot & Fashion Show Tips
"Always pay attention to where the photographer has placed their lighting and ask if theres movements or angels that her/she prefer that you avoid."
See what others think