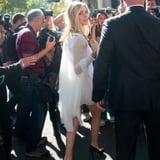 You probably first laid eyes on Nicola Peltz when she made her red carpet rounds promoting Transformers: Age of Extinction. It was hard to miss her. The 22-year-old tapped designers like Stella McCartney, Giambattista Valli, and Prada to create her looks for the 2014 press tour. But Nicola had been in the spotlight in the front row at Fashion Week even before that, and now she's making the rounds with her best friend Sofia Richie and her new boyfriend, Anwar Hadid. (Gigi and Bella's younger brother recently signed with IMG Models, cementing his status in the fashion world alongside Nicola.)
Coupled with her acting success, we wouldn't be surprised to see Nicola nab even more campaigns and magazine covers in the near future. She's best friends with Alexander Wang, after all, and seems to keep it tight with Gigi and Bella, too. "[Anwar] comes from such an amazing family. Gigi and Bella are so, so sweet. I just love his family so much. They're feminine, strong girls. To have that around is amazing," Nicola said to WWD of the supermodels. Read on for even more info about the budding style star whose name is on everyone's lips right now.
Photo Shoot & Fashion Show Tips
"Always pay attention to where the photographer has placed their lighting and ask if theres movements or angels that her/she prefer that you avoid."
See what others think