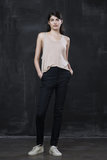 You don't have to be an athleisure devotee to get into Lululemon's new project. The brand is, of course, well known for its beloved activewear, but the company's latest undertaking in New York City moves it more into the realm of lifestyle design. The company has opened a "lab concept" store in the NoHo neighborhood, and the space will be dedicated to pieces that uniquely serve the city's commuters and busy workers. This will be Lululemon's second-ever concept store, after a similar installation in Vancouver back in 2009.
In a press release, Lululemon clarified what the shop is all about. "The lab concept serves as a hyper-local conceptual design and retail space within lululemon and an incubator for design innovation and functional product experimentation beyond activewear," the release read. Lululemon promises well-tailored, functional pieces, all of which will fall between the $60 to $450 price range. The collection will be available only in-store, and not on the company's website.
A quick look at what's available in the shop proves that the pieces are, in fact, pretty perfect for people with NYC style. There's the requisite print-free, black-and-white color scheme, as well as some items that are perfect for layering in these tricky transitional seasons. The overall aesthetic is clean, sleek, and chic . . . kind of like Lululemon's activewear too. Read on to see a handful of our favorite looks from the pop-up, which is open now.
Photo Shoot & Fashion Show Tips
"All models should know how to apply their own make-up, and keep the necessities  with you even if your provided a Make-up artist, the unexpected can happen!"
See what others think