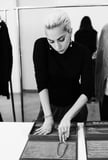 On Super Bowl Sunday, Lady Gaga didn't just perform at halftime, she also starred in a new TV ad. The singer has partnered with Tiffany & Co. as the face of the jewelry brand's Legendary Style campaign. She talks about her love and appreciation for the company throughout a 60-second film in which Tiffany HardWear pieces are shown for the first time. They include the bead-drop chandeliers and metal rings Gaga's sporting in the shots below, along with plenty more earrings, necklaces, and pendants shoppable in stores on April 28 and online May 2.
We've got a feeling Gaga will help popularize a fresh new look for Tiffany & Co., undoubtedly brought to life with the help of Grace Coddington, who's already made a clear mark at the company. Scroll to see Tiffany's new commercial - it's the first one ever debuted in the midst of a football game - and then watch this space for the launch of some new must-have items come Spring.
Photo Shoot & Fashion Show Tips
"Learn to use the energy in your eyes. From the photographers perspective, the eyes can make or break an image. New models that have the "look" also must know how to convey the feeling with their eyes."
See what others think