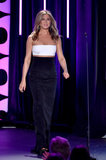 Jennifer Aniston was among those who stepped out to honor Reese Witherspoon at the 29th American Cinematheque Awards in Los Angeles on Friday night, joining A-List pals like Kate Hudson, Isla Fisher, and Matthew McConaughey. And even though Reese was the evening's big honoree, in our view, Jennifer herself won best dressed.
Following in the footsteps of women like Kerry Washington who have made tiny tops at formal events seem very chic, Jennifer rocked a white bandeau top with a high-waisted, elegant black skirt. Even though Jennifer skipped the red carpet, her white and black ensemble was on full display when she took the stage to pay tribute to her friend Reese.
Photo Shoot & Fashion Show Tips
"All models should know how to apply their own make-up, and keep the necessities  with you even if your provided a Make-up artist, the unexpected can happen!"
See what others think