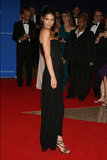 When you're a star who's invited to the White House Correspondents Dinner, you don't just show up in just any ol' thing. You break out the best, brightest, and most breathtaking ensemble you can find, walking the red carpet in style.
This time around, the fashion choices were nothing short of amazing, as ladies like Emma Watson, Kendall Jenner, and Kerry Washington showed up in looks that the president - and the superstylish first lady - would surely approve of. See what all your favorites wore ahead, then get a good look at Michelle Obama's most glamorous gowns.
Photo Shoot & Fashion Show Tips
"All models should know how to apply their own make-up, and keep the necessities  with you even if your provided a Make-up artist, the unexpected can happen!"
See what others think