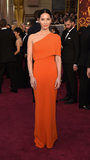 Thigh-high slits, cutouts, more thigh-high slits. Last night's Oscars had their fair share of sexy ensembles, a number that only increased once the afterparties began. But somewhere buried deep within that skin-baring crowd we saw them: stars who opted to go modest, covering up in their gowns and looking flawless while doing so.
Ahead you'll find a batch of women who prove you don't need to show some leg or go sheer to achieve a standout look - modest can indeed be hottest! Read on to see them all.
Photo Shoot & Fashion Show Tips
"Relaxed and elegant hands usually make for a better photo. Try to avoid placing your hands in positions or angles that will make them look like a "claw" in a still frame."
See what others think