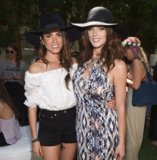 From micromini denim cutoffs to crochet bra tops, festival fashion can feel miles away from the polished pieces you rely on most of the year. Though there's nothing wrong with letting loose, having some fun, and dressing for it, it's also OK to balk just a bit at wearing clothes that feel more appropriate for a high schooler than a woman with a 401(k).
But take heart, because being an adult doesn't mean you have to miss out on all the style fun. Scratch at stereotypical festival fashion just a touch, and you'll reveal pieces aplenty that feel just right for wearing in your 30s. Moreover, these are all items that will segue right into your regular closet, ready to be worn everywhere. That's a style lesson you learn with the wisdom of years: it's much smarter to invest in pieces you can wear beyond a single weekend in the desert.
Photo Shoot & Fashion Show Tips
"Always pay attention to where the photographer has placed their lighting and ask if theres movements or angels that her/she prefer that you avoid."
See what others think