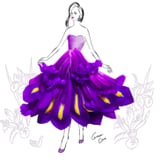 Grace Ciao creates gorgeous fashion illustrations and posts her masterpieces to Instagram. Scrolling through her account, you'll find row after row of gowns you'd love to own, using flower petals to mimic the draping of the skirts.
Grace uses every flower you can think of to design the dresses, from red roses to pink peonies and even Fall leaves. Her dreamy portraits aren't a secret to the fashion industry, either; the artist works with some of your favorite brands like Chanel, Dior, and Fendi. She's even collaborated with L'Oréal on packaging overseas.
Continue scrolling to see her breathtaking illustrations, and add her to your own feed ASAP.
Photo Shoot & Fashion Show Tips
"All models should know how to apply their own make-up, and keep the necessities  with you even if your provided a Make-up artist, the unexpected can happen!"
See what others think