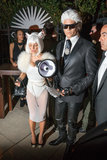 On any given day, you wouldn't have to ask us twice to get decked out in Chanel. But Fergie wore her finest designer accessories on Halloween for a very good reason - she went as Choupette Lagerfeld! The star pulled a sheer skirt over a lacy bodysuit and wrapped pearls around her waist. From her chic, furry bolero to her well-accessorized ears, it was clear Fergie wasn't just your average kitty.
And of course, what's Choupette the cat without Karl Lagerfeld? Josh Duhamel was right at Fergie's side, sporting Karl's signature outfit: a slick tuxedo jacket, leather pants, brooch-adorned tie, dark sunglasses, and edgy embellished gloves. The pair couldn't have been more on point for the Casamigos party - Fergie even slipped into a pair of two-tone Chanel pumps!
Read on to see their standout fashion costume from all angles. We'd be hard pressed to find a supermodel who could create a couples look that's up to par!
Photo Shoot & Fashion Show Tips
"All models should know how to apply their own make-up, and keep the necessities  with you even if your provided a Make-up artist, the unexpected can happen!"
See what others think