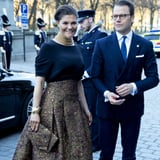 You can tell Crown Princess Victoria of Sweden loves fashion, right down to her toes. When the royal stepped out on Friday night to celebrate King Carl Gustaf's 70th birthday, she flexed her fashion-girl muscles yet again with a glamorous full skirt and bold add-ons.
While her gilded skirt might be the first thing you notice, you quickly realize how artfully she styled it. She played it cool with a pared down top, but added ample interest with a gold satement choker and a jacquard clutch that matched the very material of her skirt. Of course, we saved the best part for last: a jeweled pair of t-strap heels that put the finishing touch on the whole look. Read on to see how expertly she carried off the look - and don't forget to zoom in on those shoes.
Photo Shoot & Fashion Show Tips
"Relaxed and elegant hands usually make for a better photo. Try to avoid placing your hands in positions or angles that will make them look like a "claw" in a still frame."
See what others think