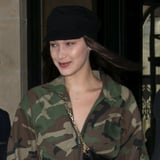 Supermodels have a way of starting trends. First it was Kendall Jenner with her invisible jeans and then Bella Hadid made hip cleavage a thing. But we're wondering if Bella's latest outfit will catch on. While in Paris the supermodel attempted to go incognito in a baggy camouflage-printed jumpsuit. She styled the jumpsuit with a black newsboy hat (a wardrobe staple for the model) and a mini Dior crossbody purse.
Another thing we couldn't help but notice? If you look down at the shoes she's wearing, you'll find that they're the same Dr. Martens boots we've seen on Bella's sister Gigi. This wouldn't be the first time the sisters have shared outfits, and it certainly won't be the last. Have a look at Bella's jumpsuit and let us know if you would give this look a try.
Photo Shoot & Fashion Show Tips
"Always pay attention to where the photographer has placed their lighting and ask if theres movements or angels that her/she prefer that you avoid."
See what others think