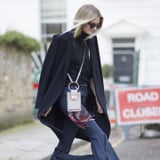 London Fashion Week is nearing - and with it, a slew of street style outfits to inspire your wardrobe for the next season. But how does the capital always manage to look so cool? Five of its residents share their tricks.
Photo Shoot & Fashion Show Tips
"Learn to use the energy in your eyes. From the photographers perspective, the eyes can make or break an image. New models that have the "look" also must know how to convey the feeling with their eyes."
See what others think