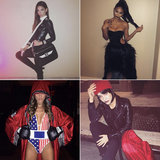 For models, the pressure is really on during Halloween. These are women for whom dressing up is a part of their job, so on Oct. 31, there's extra demand to be creative. Whether they celebrated on Friday or Saturday night, a number of our favorite catwalk regulars got in on the fun. Supermodels like Gisele Bundchen, Miranda Kerr, and Lily Aldridge showed off their 2015 ensembles - some of which are surprisingly, sweetly personal.
Photo Shoot & Fashion Show Tips
"Learn to use the energy in your eyes. From the photographers perspective, the eyes can make or break an image. New models that have the "look" also must know how to convey the feeling with their eyes."
See what others think