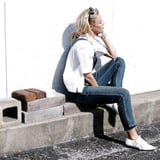 We definitely think of our button-downs as basics in our wardrobe, but there are plenty of not-so-basic ways to wear them. Since most of our collared shirts come in neutral colors or standard prints like pinstripes and checks, they go with virtually any bottom we pull out from our drawer, making for an effortless yet polished look.
But when you're wearing such a trusty staple, there's got to be a way for you to stand out from the crowd and show off your personality with a quirky touch. Lucky for you, we found plenty of hacks for twisting and tying up your button-downs, plus inspiration for what to wear with it as is. Read on to style your next unique outfit, and get ready to loosen up those buttons, babe.
Photo Shoot & Fashion Show Tips
"Learn to use the energy in your eyes. From the photographers perspective, the eyes can make or break an image. New models that have the "look" also must know how to convey the feeling with their eyes."
See what others think