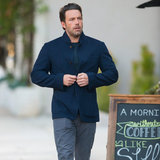 Ben Affleck has been providing major eye candy for us ever since we swooned over him in Good Will Hunting. From the street to the red carpet, Ben always exhibits flawless style. He wears the kind of outfits we wish our boyfriend would come up with all by himself. You know, without us having to lay it all out for him or take him shopping.
Whether he's wearing jeans or slacks, a graphic tee or a bow tie, a suit jacket or a puffer coat, he's one dapper dude. And despite the sad news that Ben and Jennifer Garner have spilt, they still looked pretty darn good when they stepped out arm in arm. Below, Ben's greatest fashion moments of all time.
Photo Shoot & Fashion Show Tips
"Relaxed and elegant hands usually make for a better photo. Try to avoid placing your hands in positions or angles that will make them look like a "claw" in a still frame."
See what others think